A number of key institutions from the region have committed themselves to supporting the APWF as "lead organizations" responsible for identifying strategies and initiating actions to achieve progress under each of the Priority Themes and Key Result Areas (KRAs).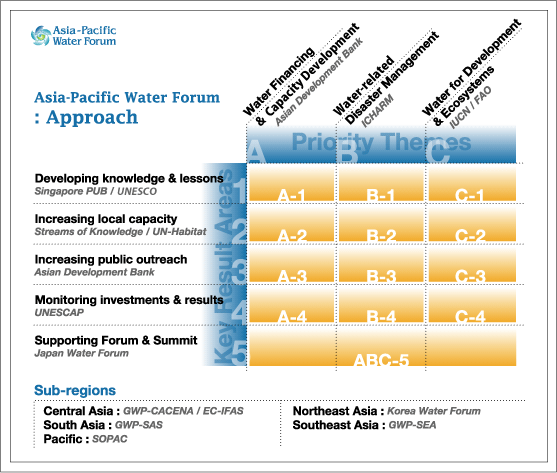 The approach of the APWF's network organization will be to add value to the ongoing work of organizations and initiatives in the water sector in terms of investment, optimizing implementation arrangements, achieving economies of scale, and developing unified approaches to water policies and programs. It will be inclusive, open and flexible, with a very light governance superstructure and an optimal delegation of responsibility to the contributing member organizations for the delivery of agreed products and services of high quality and practical value. The Regional Document prepared for the 4th World Water Forum identified three Priority Themes common across the Asia-Pacific region. Adopting strategies and initiating actions needed to address these themes will be the main focus of APWF activities leading up to the 1st Asia-Pacific Water Summit. The actions required to make progress under each of the Priority Themes have been divided into five categories, or "Key Result Areas" (KRAs). APWF will provide top-quality and user-friendly network coordination services, including a first-class interactive website, to showcase activities and results in each of the KRAs and to facilitate the necessary linkages among the KRAs as they relate to the Priority Themes.
Archives
RULES AND PROCEDURES
(As of February 22, 2007)
4th World Water Forum docs.
・Regional Documents
・Water Ministerial Mtg.
・Asia-Pasific Day etc.
»Download