The World Water Forum
The World Water Forum, organized by the World Water Council, is the world's largest multi-stakeholder platform, which brings together political leaders, practitioners and experts to share knowledge and experiences to learn from each other as well as to renew political commitments. It contributes to the dialogue of the decision-making process on water at the global level, seeking to achieve the rational and sustainable use of this resource.
The Forum's organizational structure is seen from the diagram below: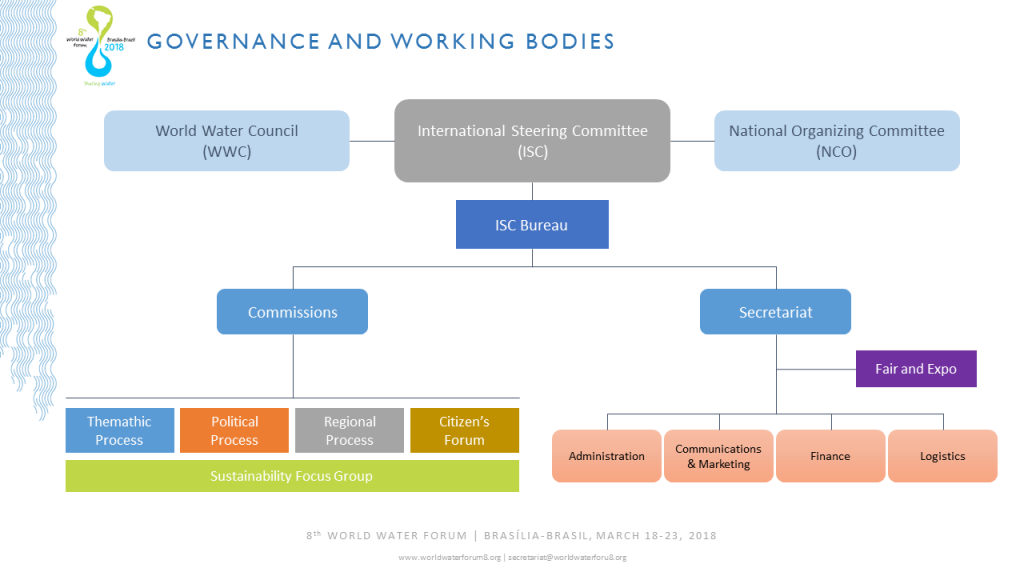 The 8th World Water Forum was held in Brasilia, Brazil, from 18th to 23rd March 2018, which was the first ever Form organized in the Southern Hemisphere. The 9th World Water Forum will take place in Republic of Senegal in 2021.
The Forum's contents are defined and implemented by five distinct commissions responsible, respectively, for:
the Thematic Process, which discusses which themes the Forum will address;
the Regional Process, which discusses the development, analysis and presentation of case based water issues by a regional point of view.
the Political Process, which involves local, regional, national, and national governing bodies and parliamentarians, and has resulted in memoranda of understandings, cooperation treaties and agreements for the integrated water resource management;
the Sustainability Focus Group, which discusses the adherence of public policies and actions to the principals of sustainable (economic, social and environmental) development in a cross-cutting perspective, participating in all the other processes; and
the Citizens' Forum, which stimulates the participation of organized civil society in the discussions, exchanges of experience and all the Forum's other activities.
 Regional Process
The structure of the Regional Process was primarily based on six larger geographic areas or Regions: Africa, Americas, Arab, Asia-Pacific, Europe and Mediterranean.  Of them, Africa, Americas and Asia-Pacific were also divided into sub-Regions. 
One Coordinator is nominated for each Region and Sub-Region and their works are aligned with the overall guidelines produced by the Regional Process Commission (RPC). 
The APWF has been appointed and served as the regional coordinator of the Asia-Pacific region for the Regional Process  since the 5th World Water Forum to organize stakeholders,  promote preparatory meetings, recruit consultants and build regional session proposals together with its partner organizations, taking advice from theme-leaders of the Regional Process.
Asia-Pacific Regional Process Synthesis Report: 
https://apwf.org/apwf_wp/wp-content/uploads/2019/02/Asia-Pacific-Regional-Report-for-8th-Forum_20180318.pdf