The Asia-Pacific Water Forum (APWF), for which Japan Water Forum acts as its Secretariat, organized the 23rd Governing Council Meeting at the Singapore PUB WaterHub on the 11th January 2019.
Discussions were made on the followings:
(1) Planning of the 4th Asia-Pacific Water Summit (4th APWS) and the approval of the host country & city,
(2) APWF Action Plans for 3 years: Thematic Action Plans, and
(3) Asia Focus Sessions of the 2019 World Water Week in Stockholm (SWWW)
The meeting was chaired by Mr. Ravi Narayanan, Ms. Changhua Wu, and Dr. Eduardo Araral in their capacities as Chair and Vice-Chairs of the Governing Council of APWF. In total, 32 representatives from the 22 organizations of the APWF members participated in the meeting.
Outlines of the discussions and resuls
Decision of the host of the 4th APWS: Kumamoto City, Japan
Kumamoto City as a candidate presented its bid proposal to host the 4th APWS. The APWF members appreciated the presentation from Kumamoto City and unanimously approved that Kumamoto city will be the host city and the 4th APWS will take place on the 19th and the 20th of October 2020. They also agreed that the APWF secretariat will start preparing the 4th APWS in accordance with the proposal from Kumamoto City.
The APWF members then discussed how to make the 4th APWS attractive to the heads of state and government. The members confirmed the importance of making use of other key international conferences such as SWWW and UN's SDGs-related events as milestones towards achievement of the successful 4th APWS.

2)APWF 3-Year Thematic Action Plans

Each of the 3 thematic leaders, namely, UNESCO Regional Science Bureau for Asia and the Pacific for "Sound Water Cycle Management", United Nations Economic and Social Commission for Asia and the Pacific (ESCAP) for "Governance and Inclusive Development", and the Asian Development Bank (ADB) for "Financing the Implementation of Water-related Sustainable Development Goals" proposed respective collaborative work plans, as a road to the 4th APWS in Kumamoto City. The APWF members then exchanged their opinions.
Also they discussed how to develop an indicator to measure the progress of the Yangon Declaration, how to identify key gaps, and how to fill in those gaps. The importance to ensure the high-level government leaders continue to politically commit the support of water security was acknowledged.

3)Asia Focus Sessions of SWWW 2019
APWF is appointed as a lead coordinator of the Asia Focus Sessions of SWWW between 2018 and 2020. In the meeting, the session themes and possible lead/co-conveners were discussed, and it was decided that the session theme will be selected in accordance with the above three thematic priority themes and the overarching theme of SWWW 2019 which is "Water for society – Including all".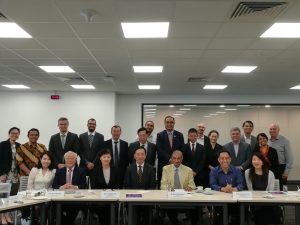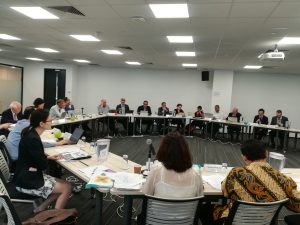 Agenda

9:30 – 9:35

Greetings & Introduction
 – GC Chair: Mr. Ravi Narayanan
 – GC Vice-Chair: Ms. Changhua Wu and Dr. Eduardo Araral
 – Self-Introduction by all participants 

9:35 – 9:40

Agenda of the Day

9:40 – 10:40

Agenda 1: Planning of the 4th APWS and the approval of 4th APWS host country & City
 – Report of the background of the process of calling for the host country &
   city of the 4th APWS and the outcomes (the APWF Secretariat)
 – Presentation from Kumamoto City, Japan about the willingness to host
    the 4th APWS
 – Discussion and approval of the host 
 – Future tentative schedules (the APWF Secretariat)

10:40 – 10:55

Coffee/Tea Break

10:55 – 12:15

Agenda 2: APWF Action Plans for 3 years: Thematic Action Plans
 – Brief review of the last meeting discussion
 – Introduction on the proposals from each thematic leader and the
    discussion
  1)  Sound Water Cycle Management (UNESCO Regional Science Bureau
       for Asia and the Pacific)
  2)  Governance and Inclusive Development (ESCAP)
  3)  Financing the implementation of water-related SDGs (ADB)

12:15 – 13:15

Lunch

13:15 – 14:35

Agenda 2: APWF Action Plans for 3 years: Thematic Action Plans (con)

14:35 – 14:45

Coffee/Tea Break

14:45 – 15:40 

Agenda 3: SWWW 2019: Asia Focus Sessions
 – Discussion about the session proposals

15:40 – 15:50

 Wrap-up of the APWF 23rd Governing Council Meeting
By Yumiko Asayama, Manager, JWF (Secretariat of the APWF)