Eye on Asia, 2010 World Water Week in Stockholm
Date and Time:
Wednesday, 8th September 2010, 16.00-17.30
Venue:
Stockholmsmässan Room T3
Convenor:
Asia-Pacific Water Forum (APWF) and National University of Singapore (NUS)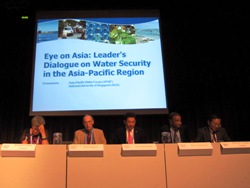 Eye on Asia concludes with a panel discussion among leaders from government, civil society and academia on water security in Asia-Pacific region. The panel and participants will discuss the role of leadership and new policy initiatives in controlling pollution and achieving universal access to water and sanitation. The panel discussion is part of APWF's Ministers for Water Security initiative, which was announced at the start of the 5th World Water Forum by APWF's President Yoshiro Mori, a former Prime Minister of Japan, and supported by the ministers in the Asia-Pacific region.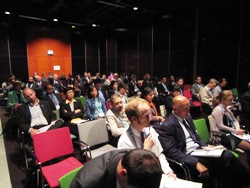 The initiative is raising public awareness and encouraging cooperation among leaders in government, private sector and civil society on policies, investments and innovations that will increase water security in Asia. APWF encourages ministers of finance, planning, health, disaster management, infrastructure, agriculture, energy, environment, water, and other water-related portfolios to join the initiative to demonstrate how water security can be increased by working jointly across these sectors. Leaders from the private sector and civil society are also invited to join the dialogue with the Ministers.
Chair:
Ms. Margaret Catley-Carlson, Patron of the Global Water Partnership (GWP) and International Mentor of the Japan Water Forum (JWF)
Program:
» Summary of Eye on Asia Sessions (PDF, 60kb)
16:00
Welcome and Introduction
Ms. Margaret Catley-Carlson
16:10
Speech
H. E. Mr. Suwit Khunkitti, Minister of Natural Resources and Environment, Thailand
16:20
Panel Dialogue

H. E. Mr. Suwit Khunkitti, Minister of Natural Resources and Environment, Thailand
Mr. Ravi Narayanan, CBE, Vice-Chair, APWF Governing Council and former Chief Executive of Water Aid
Dr. Ramesh Ananda Vaidya, Senior Advisor, International Centre for Integrated Mountain Development (ICIMOD) and Former Royal Nepalese Ambassador to Japan
Prof. Peter Rogers, National University of Singapore (NUS) and Harvard University

17:30
Closing
Media Coverage
» "Leader's Dialogue Takes on Asia-Pacific Water Security" (Page3, World Water Week Daily)(PDF, 388kb)
Links:
» Press Release: "Thailand to Host the 2nd Asia-Pacific Water Summit in January 2012" (PDF,132kb)
» "Ministers for Water Security" Initiative in the Asia-Pacific Region (PDF,38kb)