Asia-Pacific Water Forum (APWF), which Japan Water Forum plays as the Secretariat, co-organized the session to discuss Water- the key to a Resilient and Sustainable Asia-Pacific in terms of Water Cycle Management. It co-organized with UNESCO Scientific Beaureau Asia and Pacific (UNESCO Jakarta), International Water Management Institute (IWMI), Japan Sanitation Consortium, and Korea Water Forum. We explored the connecting role of Water as underpinning sustainable human development, climate resilience, and ecosystem health in Asia and the Pacific through diverse case studies from across the region.
At the beginning of the session, the author of this report, who led the whole Asia Focus Session of the Stockholm World Water Week 2022, introduced the overview of the APWF and the purpose of the session. She also expressed his condolences to APWF Governing council Chair, Mr. Mark Pascoe, who recently passed away suddenly.
Ms. Alice Mai Nguyen (Vietnam) and Ms. Carrina Lim (Indonesia) Water Agency (both youth representatives) presented the UNESCO Water Resilience Challenge 2022: youth leadership making the invisible visible. Reflecting the World Water Day 2022 theme "making the invisible visible, "UNESCO Water Resilience Challenge 2022 provided a unique capacity-building program tofifty Young Water Leaders from Indonesia and Vietnam to learn about Groundwater and Biosphere Reserves and to enhance their leadership skills. The program utilized both in-person and online learning opportunities to exchange knowledge of each Indonesia and Vietham participant. It is supported by theGovernment of Japan Funds-in-Trust contribution to UNESCO through UNESCO Jakarta.
Mr. Lim and Ms. Mai emphasized that given that youth are the 100 percent future, connecting youth, communities, and organizations with growing water-related issues will significantly contribute to the practice of problem-solving.
The panel discussion question, "how do we reach out to youth who are not involved in the water sectors, and how to overcome the barriers to bring in youth who may never have heard of water security." Ms. Lim stressed that social media is a very powerful tool. Still, it is not enough to engage youth, and they want more information, to learn from the field, and to find solutions. What is important is to show how the dialogue is continually unfolding in any given initiative. By creating opportunities to learn about the situation of the people in the field communities, they will begin to consider what possible solutions to the issues can be provided while utilizing the wisdom of the community. Then, they will be able to see what the real challenges are. She also emphasized that while incorporating the concept of water security, it is vital to make it simple and easy to understand by linking it to daily life so that it does not become too scientific or technical. Ms. Mai also emphasized the importance of making invisible issues visible by visiting sites and learning about the issues, contriving ways to implement activities to help people steadily understand Water and water-related issues. Through multiple activities, it is important to provide opportunities to learn about Water and water-related issues from various angles of the activities.
Dr. Giriraj Amarnath, Principal Researcher – Disaster Risk Management and Climate Resilience, Research Group Leader: Water Risks to Development and Resilience, delivered his presentation entitled "Reconsidering the Role of Water Resources in Climate Resilience." His research team conducts research projects to create a space for people to work together and identify clear climate change adaptation actions through the combination of robust and flexible approaches to resilience through water management. Through it, they aim to present what the water community can do to help advance targets for climate change adaptation and what the climate community can do to help advance targets for water resilience. He firstly highlighted Climate adaptation solutions are framed around adequate water management and fully consider the role of Water in climate resilience. It is crucial to
put in place multi-kevel water governance to promote participation in decision-making,
ensure data and information is accessible at all levels that people have the skills to apply it to manage dynamically changing risks,
maintain or restore diversity in water-related systems, and
reduce vulnerabilities using infrastructure and technologies
He then shared infrastructure and technology options for use within the Action Framework for Climate-Resilient Water Management. Secondly, he introduced the case of Drought Resilience for IWRM. As a specific case, he introduced the Underground Taming of Flood for Irrigation (UTFI), in which community-owned assets can be converted into recharge structures that effectively achieve flood mitigation and enhanced groundwater availability. He also introduced the CGIAR Research Program ClimBeR (Building Systemic Resilience against Climate Variability and Extremes) and ClimaAdapt-Gov Facilitation Planning to assist policymakers and coordinators on the national level in developing, implementing, monitoring, and evaluating climate change adaptation strategies and plans, with the provision of the dashboard.
In his concluding remarks, he emphasized:
Promote multi-level, multi-scale, the multi-sectoral approach can synergize solutions and catalyze progress toward climate change resilience
Invest in water and climate information systems and improve the decision-making process, including targeted local-led climate adaptation investment
Water-centric projects potentially leverage human ingenuity and use design, innovation, and creativity to strengthen both institutional capacity and climate resilience.
Financing for risk reduction and insurance are mutually reinforcing measures for resilience to water-related impacts of climate change
In the panel discussion question, "Are there any areas or sectors where we need to make an extra effort to get them on board into this multi-stakeholder context," He stressed it is essential to encourage the participation of relevant and diverse stakeholders from an integrated perspective on water security, including from the perspective of food security. It is necessary to work from soft aspects, including economic incentives and institutional and organizational reforms, while water infrastructure tends to be supply-related. In addition, to maintain sustainability, it is also necessary to propose measures that are linked to nature-based solutions.
Dr. Pierre Flamand, Manager, International Affairs, Japan Sanitation Consortium, presented Wastewater Reclamation and Reuse in Japan, introducing the case of Sakai City in Osaka, Japan. He first shared the current status of Japan's wastewater treatment. In Japan, non-potable water reuse has been implemented since the 1980s. In 2015, the total amount of reclaimed wastewate was 219 million m3/year; the total amount of wastewater was 15.5 billion m3/year.
To make a resource circulation society toward the sustainability of the next 100 years, the Ministry of Land, Infrastructure, Transport, and Tourism (MLIT) Japan put up the policies about WASTEWATER SYSTEM VISION 2100- FROM WASTEWATER SYSTEM TO THE ROAD TOWARD A RECYCLING SOCIETY AS A 100-YEAR STRATEGY. MLIT, Japan support the new generation wastewater aid project, offering a national subsidy to wastewater management.
Secondly, he introduced wastewater treatment in the new basic plan on water cycle (2020). Thirdly, As an example of the development and implementation of comprehensive basin-wide planning of the sewage system, he introduced the case and the achievement of wastewater reclamation in Sakai City, Osaka Prefecture, by AEON MALL Co. and the Kansai Electric Power Group. He then highlighted the lessons from the wastewater treatment for sound water cycle management and ways forward.
In Japan, reclaimed wastewater is being used mainly for stream flow augmentation and landscape irrigation

The use of reclaimed wastewater is still limited as the cost of water supply remains, in many areas, cheaper than that of reclaimed wastewater
Given climate change brings new constraints on water resources and water availability, Japan has implemented reclaimed wastewater projects through the new concept and policies of the"Wastewater System Vision 2100"
the expectation for increased integration of wastewater reclamation projects (promoted with subsidies) and initiatives to develop technologies reducing the cost and energy involved in wastewater reclamation

Wastewater reclamation is an effective option to reduce the impact on water resources, the cost, and energy involved with water resource management, and reduce CO₂ emissions

The demonstration project in Sakai City as an "Environmental Model City" to show the benefits of using reclaimed wastewater for different purposes: as a source of energy for businesses and an additional source of Water for the local industry and streams
A commercial basis may not be a sufficient incentive for such a project               
→ Japan has pledged to be carbon neutral by 2050. It is expected the measures will be promoted by solving the barriers.
To the panel discussion question about "what is necessary to prioritize wastewater treatment in Asia and the Pacific," Dr. Flamand pointed out it is essential to provide the necessary resources. But in the case of developing countries, it is crucial to ensure the management system can be operated on an ongoing basis by providing opportunities for capacity building. For developed countries, including Japan, it is crucial to implement measures incorporating a climate change and energy efficiency perspective.
Dr. Jeryang Park, Associate Professor at the Department of Civil & Environmental Engineering, Hongik University, shared Recent Efforts to Improve Resilience in Water Management in South Korea. Firstly, he introduced the status of water management in Soul through the City Blueprint Assessment and explained why it is necessary to enhance resilience to the climate in the Republic of Korea, presenting the lessons from the 4 River Restoration projects constructed from 2009 to 2012. While it was implemented with approximately US$17.3 billion in funding, it was missing the resilient principle, and the water environment has changed. At the time, the Ministry of Land, Infrastructure, and Transport, the Republic of Korea, was in charge of water quantity management, and the Ministry of Environment was in charge of water quality management. Problems appeared, such as different goals for water management by each department and overlapping budgets
Secondly, he introduced the improvement of water governance in the Republic of Korea and the recent efforts toward enhancing climate resilience. In 2018, the Republic of Korea overhauled its national water management system into an integrated structure with the Ministry of Environment as the single authority. The Republic of Korea established a rapid response system to secure water safety and drinking water supply to build resilience. It also aims to create new water value, securing 1.22 billion tons of water per year without dam construction. It also seeks to generate 12 trillion won in economic value over the next 30 years as the foundation for an integrated water management system. In addition, the Republic of Korea launched the Presidential water commission in August 2019 following the 'Water Management Framework Act.' The committee Plays the role of deliberating and deciding on the national basin plan for water management, important water-related policies and issues, and mediating water disputes. Under the Presidential Water Commission, the commission for each 4 river basins was also established. He also shared that each river basin also launched measures for the diversity of water resource uses for sustainable water use in line with the Integrated Water Resources Management policy, introducing the Nakdong River Integrated Water Management Plan case. Furthermore, he also shared the carbon neutral measures in water resources management fields, and the projects integrated several Nature-based solutions for sustainable water resource management.
In response to a panel discussion on what is needed to mobilize investments in resilience, he said it is a difficult question. Still, the key is understanding governments and citizens, and they tend to request evidence even under future uncertainties. To improve communication, he has also worked on research from nature-based solutions to assist communication.
The Session page in Stockholm World Water Week 2022
https://worldwaterweek.org/event/10392-water-key-to-a-resilient-and-sustainable-asia-pacific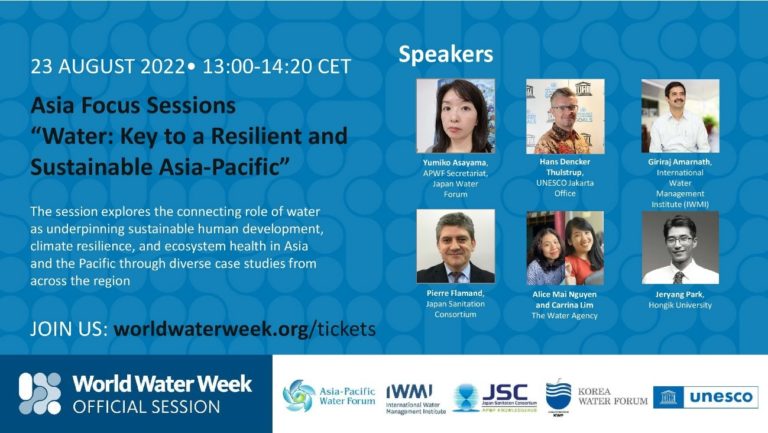 (Reporter: Ms. Yumiko Asayama, Chief Manger (International Affairs))