Heads of State and Government (HSG) Meeting, the adoption of the Kumamoto Declaration, and High-level Statement Segment
In the HSG meeting on the afternoon of 23rd April, we conducted the final discussion of the "Kumamoto Declaration," the outcome document of the 4th APWS. The Kumamoto Declaration document was adopted unanimously by the HSG who participated in the 4th APWS. The Kumamoto Declaration signaled the Heads of State and Government's determination. The HSG has reached a collective understanding that recovery from the pandemic requires transformation into quality-oriented societies that are resilient, sustainable, and inclusive. HSGs determined to strengthen quality infrastructure development for the water sector, integrating hard and soft components, including knowledge, information, and data management, to realize a quality-oriented society. To break free from the conventional approach and accelerate efforts, HSGs determined to conduct three things: (1) improve governance, (2) Close the financial gap, and (3) appeal to the science and technology community.
The draft document was shared with all 47 countries invited to the 4th APWS through diplomatic channels for comments and feedback on adopting the Kumamoto Declaration. We also hold the preparation meeting online with the countries supposed to join the 4th APWS. By each country of Asia and the Pacific confirming the draft document and sharing the feedback for the revision, the Kumamoto Declaration gains ownership of each Asia and Pacific country for the implementation, which are also a vital accomplishment of the 4th APWS.
In the HSG meeting, Japan's Prime Minister Fumio Kishida launched the Kumamoto Initiative for Water. He declared that Japan would commit to leading the implementation of measures to develop quality infrastructure by making use of Japan's advanced technologies, thereby simultaneously contributing to addressing water and the social issues and sustainable economic development in the Asia-Pacific region, centering on two approaches: (1) implementation of measures for climate change adaptation and mitigation, and (2) measures to improve people's basic living environments. He also announced that  Japan would provide financial assistance worth approximately 500 billion yen (nearly 4 billion dollars) over the next five years to the Asia and the Pacific region.
The HSGs acknowledged and supported the Kumamoto Initiative for Water. The 17 HSGs also delivered their statement about water challenges in each country, shared the measures to achieve quality-oriented development and water-related SDGs, and emphasized each leader's initiative to solve various water challenges from the recovery of the Covid-19 pandemic. Following the HSG meeting, 16 Asia and Pacific ministers also delivered their statement to realize quality-oriented growth. Furthermore, 28 heads of international organizations and ambassadors of Asia and the Pacific region in Tokyo also delivered their speeches in the High-Level Statement Segment.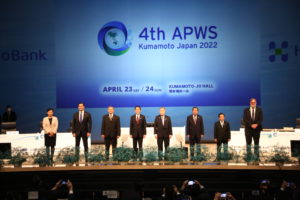 Heads of State and Government Meeting