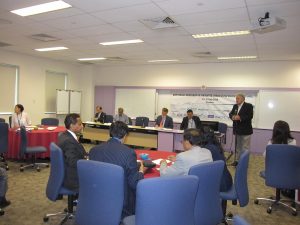 The workshop
On July 14th and 15th, the member of the APWF joined the Global Water Partnership (GWP) PANASIA Workshop on Urban Water Management in Asia, held at PUB Water Hub.
It was aimed at sharing knowledge and experience regarding innovative approaches to urban water management in Asia from the following perspectives: 1.urban water governance, 2. equal water sharing and sanitation systems, 3. effective water supply and wastewater systems, 4. storm water and urban flood management. Following this, there was a discussion on projects that could be collaborated upon.
The workshop was held in parallel with the 19th Governing Council Meeting of the APWF. It was also organized as a follow-up to the Regional Workshop on South-South Cooperation in Flood Management, held last December in the city of Foshan in Guangdong, China.
Mr. Ravi Narayanan, GC Chair of the APWF, delivered a keynote address on the challenges surrounding water security in Asia. Ms. Yumiko Asayama, Manager of Japan Water Forum, c/o Secretariat of the APWF, made a presentation on Water Cycle Management and sustainable urban development introducing the good practices and lesson learned from the activities of Nagoya City and Kiso River Basin in Japan during the urban water governance session. Ms. Changhua Wu, GC Vice-chair of the APWF, spoke on climate change and flood control measures from the perspective of financing. as the introductory note of the storm water and urban flood management session.
By Yumiko Asayama, Manager, Secretariat of the APWF